"I drink it when I am happy and when I am sad. Sometimes I drink it when I'm alone. When I have company I consider it obligatory. I trifle with it when I am not hungry and drink it when I am. Otherwise I never touch it unless I am thirsty"
- Madame Lily Bollinger (1899-1976)
Franschhoek Pass Winery
Maiden Vintage Released
Awarded 4 stars - Wine Magazine
Cap Classique Challenge

Welcome to the launch of MORENA. Our dream began 10 years ago when we were captivated by the irresistible pleasures of champagne, its history and all the characters who have made it the celebratory drink it is today. Our move to the beautiful Franschhoek valley enabled us to make cap classique in the French tradition in our boutique cellar on the slopes of the Franschhoek pass. An association with Thierry Lesne from Epernay France has enabled us to produce a wine of high quality using the exact method as is used in the Champagne region. Our style is dry and elegant and suitable to the South African lifestyle. Our quantities are limited allowing attention to detail.

TRY THIS RECIPE served with Morena Brut Rose
Make savoury pancake
Spread liberally with ricotta and blue cheese
Sprinkle crushed wallnuts, spring onion, salt and pepper and tightly roll up pancake.
Cut into wedges and place on platter.
Bunch smoked salmon and place on top with garnishing.
Ingredients can be varied depending on availability.
"Champagne! In victory one deserves it, in defeat, one needs it".
- Napoleon
2009 Release
Many thanks for all the support we received this year and to the many customers who visited the farm for tastings. This is always a good experience in order to understand how bubbly is made and to share in our farm philosophy of wine, food and good company.
The 2007 harvest is now ready after spending 2 years on the lees. MORENA's typical zesty fruity flavours, which have become synonymous with MORENA wines, have been maintained. This year we will be releasing a magnum (1.5l) MORENA, which spent 4 years on the lees, and a magnum Thierry Lesne Champagne. We have also introduced a new bubbly based on the old traditional style of champagne making. Before the wire muselet was introduced all corks were secured with string. This is a time-comsuming method as it has to be done by hand. In the style of this old tradition we have introduced a wine called ANCIENNE in a clear bottle with the string closure. The dosage has a small amount of Muscat d'Alexandrie brandy which is similar to the Cognac used in the original dosage method. Each bottle has its own device, which is made from a Pinot Noir vine, to cut the string.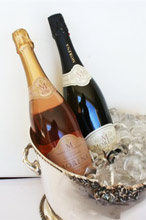 Pouring and Chilling Champagne
The ideal way to chill champagne is to place it in an ice bucket half and hour before drinking. Champagne in the fridge is more convenient, but should not be left in the fridge too long. The cork should not be popped as this releases a large amount of the bubbles. Leave the muzzle on, hold tightly with one hand and twist the base of the bottle with the other - easing the cork out. Pour a small amount into each glass and then top up – this will stop foaming. Half fill the glass and do this more regularly. This will keep the champagne cold and maintain the bubbles. Take care to ensure that your glasses are clean. Dirty glasses destroy the bubbles. Thoroughly rinse your glass in fresh water to eliminate any residue of detergent.
Champagne Facts
Each bottle contains 250 million bubbles
Each bottle has 6.5 bars of pressure
There are 60 cap c1assique producers
Pol Roger named a champagne after Winston Churchill
Moet & Chandon has over 30 million bottles in their cellars
There are 9206 brands of champagne marketed
The champagne region consists of 34500 hectares
Napoleon's favourite drink was champagne
Veuve Clicquot was founded in 1772